Benjamin School District 25 provides special education services in conjunction with SASED. These services are provided in a full continuum of offerings, are designed by those persons most familiar with the student's needs, and comply with Federal and State law. Our programs cover all disability areas and range from total inclusive placement to residential placement.
All students receiving special education services are required to have an Individualized Education Plan (IEP) specifically outlining the extent, duration, and intensity of services. The IEP is written and reviewed at least annually. As special educators in Benjamin School District 25, we are aware of the need to provide our challenged students with an education that prepares them for a successful adult life. We provide opportunities for students to learn the necessary skills to pursue further education, or to obtain employment.
Please note that any parent who is deaf or does not typically communicate using spoken English and who participates in Section 504 plan or IEP meetings is entitled to the services of an interpreter. If you need an interpreter for ASL or any other language for any school event, please contact Dr. Julie Salamone jsalamone@benjamin25.org (630) 876-7800 or you can complete a parent request by following this link Parent interpreter or translation service request.
IEP - INDIVIDUALIZED EDUCATION PROGRAM
Public Law 94-142, known as the Individuals with Disabilities Education Act (IDEA), is legislation that was passed to ensure children with disabilities receive a free appropriate public education (FAPE) that meets their unique needs.
The IEP is defined as a written document for each child with a disability that describes that student's educational program and is developed, reviewed, and revised in accordance with IDEA. Each IEP is a vital document, for it spells out, among other things, the special education and related services each student will receive. The IEP is developed by a team that includes parents and school professionals and, when appropriate, the student. Each IEP should be developed with careful consideration of each child's capabilities, strengths, needs, and interests. The IEP should function as the tool that directs and guides the development of meaningful educational experiences, helping the child achieve his or her goals. In short, it should assist the student in meeting the goals of our educational system.
ACCOMMODATIONS AND MODIFICATIONS
Benjamin School District 25 implements a wide range of accommodations and modifications based on individualized student needs. The determination of the use of these accommodations and modifications for student success will be made by the Individual Education Program Team and implemented by trained educational professionals.
Accommodations are provisions made in how a student accesses and demonstrates learning. These do not substantially change the instructional level, the content, or the performance criteria. The changes are made in order to provide a student equal access to learning and equal opportunity to demonstrate what is known.
Modifications are substantial changes in what a student is expected to learn and demonstrate. These changes are made to provide a student the opportunity to participate meaningfully and productively in learning experiences and environments. Modifications include changes in instruction level, content, and/or performance criteria.
Related services are supportive services that are required to assist a child with a disability to benefit from special education. These services may include speech-language pathology and audiology services, interpreting services, psychological services, physical and occupational therapy, orientation and mobility services, social work services, and health/ school nurse services.
Related services do not include a medical device that is surgically implanted, the optimization of that device's functioning (e.g., mapping), maintenance of that device, or the replacement of that device.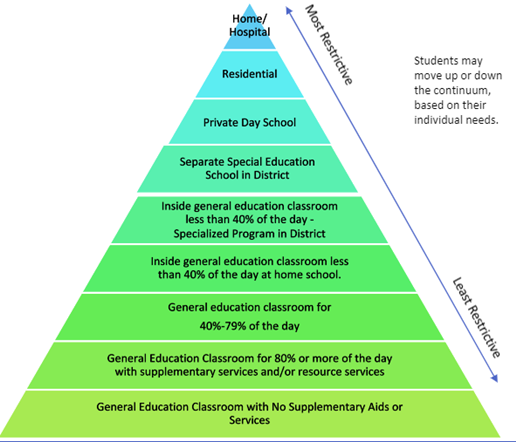 Extended School Year, or ESY, is a provision for a student with special needs to receive ESY instruction over summer break.
The purpose is to prevent serious regression of previously learned skills that cannot be regained in a reasonable length of time with the intent being to maintain IEP goals and objectives, not to introduce new skills.
The IEP team determines eligibility for ESY services. The team must consider regression, recoupment, critical skill, and the severity of the disability. When considering regression and recoupment, the IEP team must have data to demonstrate that a student's skills would significantly regress more than same-age peers or that it would take significantly longer for the student to recoup the lost skills when compared to same-age peers. The team should also consider the severity of the disability when deciding if a student is eligible for ESY.
Functional Behavior Assessment (FBA)
An FBA is a process for gathering information about behaviors of concern, whether the behaviors are academic, social, or emotional. These behaviors are impacting the student's learning or the learning of others.
Behavior Intervention Plan (BIP)
A BIP is a written improvement plan created for a student based on the outcome of the FBA process. In order to complete the FBA process parental consent is required through the domain. The FBA process can be completed for students who do not qualify for special education services. Parental consent is still required and would be obtained on a different consent form.
For more information please visit ISBE's Special education page
You can also review the Bill of rights
Parents and school staff usually agree about issues regarding evaluation, eligibility, services, and placement of students with disabilities. However, there are times when disagreement occurs. It is helpful to address concerns with school personnel as soon as they arise so steps can be taken to resolve the concern and support the working relationship among parents, staff, and students.
If parents/guardians believe that their child's educational rights have been violated, they should try to resolve the issues with the school and local school district through the following steps:
Communicate directly with the student's classroom teacher or special education case manager/teacher.

Communicate with the building administration.

Communicate with the Program Coordinator jsalamone@benjamin25.org

Request an IEP meeting to discuss the issues with the IEP team.
If conflicts cannot be resolved at the district level, families can request to work with the Illinois State Board of Education to effectively resolve the dispute. Options include: