1985 Benjamin Graduate Kurt Duvall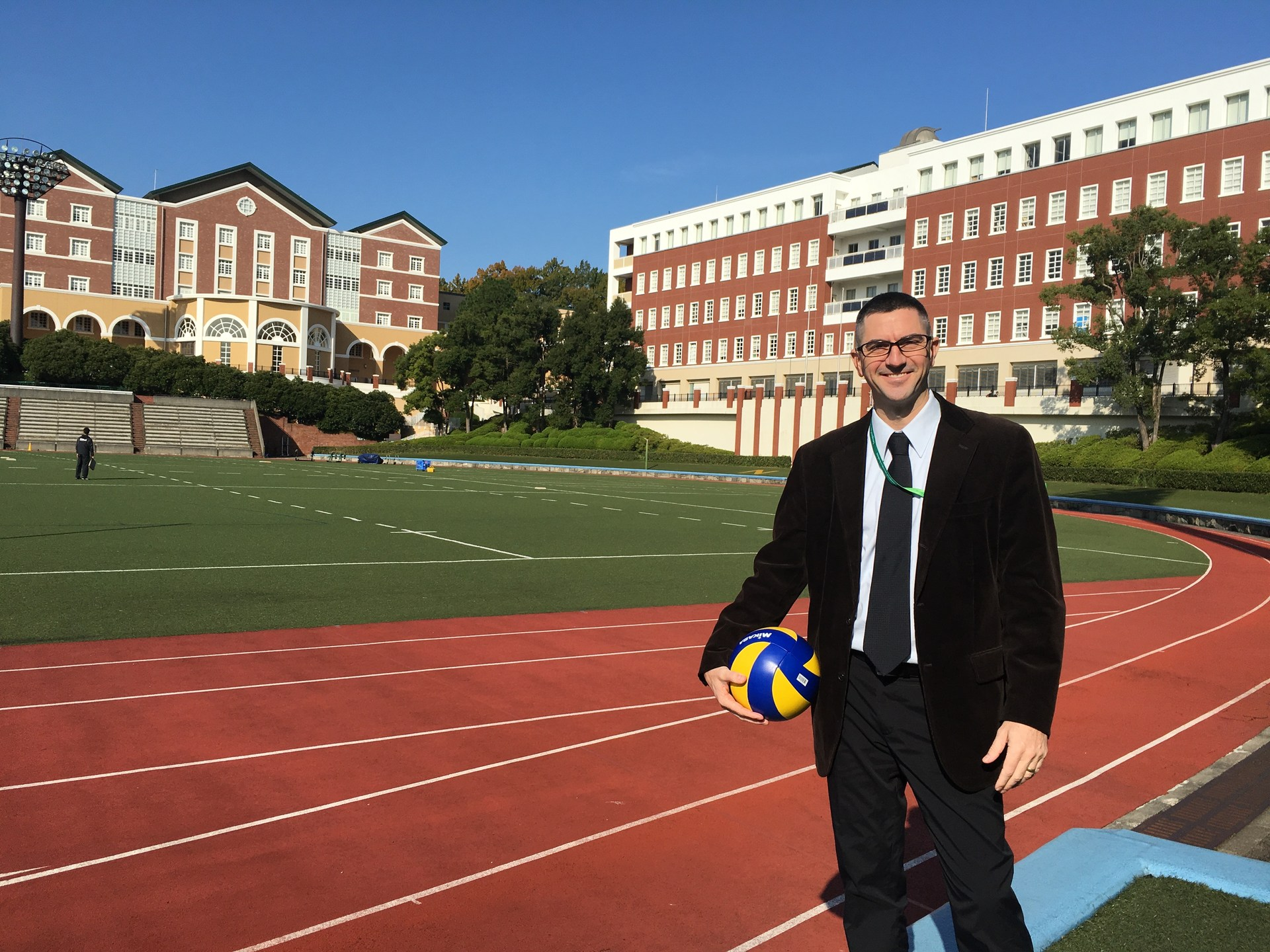 Benjamin District 25 graduate Kurt Duvall may live and teach a world away, but his earliest memories are much closer to home and his years at Evergreen Elementary and Benjamin Middle School, where former art teacher Anna Meade served as role model and inspiration for a future career.
Currently a fifth grade English teacher at Tamagawa Academy in Tokyo, Japan, the 1985 Benjamin Middle School grad teaches English as a Second Language to Japanese children. He also works with the women's volleyball team at Tamagawa University, located on the same campus as the middle school where he teaches.
Previously, he taught five years of seventh, eighth and ninth grade English at Ichigao Junior High School, a Japanese public school in Yokohama, where he also coached girls' volleyball.
"I originally began teaching because I wanted to open my own English school," explains Duvall, who is a 1993 graduate of Georgetown University, Washington, D.C. and received his master's degree in Business Administration from University of Phoenix in 2016. "I planned to work for one to three years teaching while finishing my MBA, and then combine my education and experience to start my own business. However, I found that I enjoyed Japanese school life so much, I didn't want to quit working at a school."
Teaching, Duvall says, is one of the few careers foreigners in Japan can pursue without necessarily speaking, reading and writing the language proficiently. "I speak Japanese every day," he says, "and I have found that I love teaching ESL to Japanese students, particularly those in the 12-15 year old age group. I am able to make a difference by helping my students get used to spending time with a non-native speaker as a normal part of their lives."
With only a small percentage of foreigners in Japan, many students do not have regular contact others not of Japanese origin. "In class and outside, I am able to give them a chance to have conversations with a native speaker and build confidence in using the language," explains Duvall, who says his Japanese students often find the language challenging, worry about making mistakes, and are extremely shy when speaking in front of others.
"As a student myself, Benjamin helped me prepare for my career by giving me a comfortable place to study, mature, and make friends that I still have today," states Duvall, whose mother, Judy, started working at Evergreen Elementary School many years ago and worked at Benjamin 1983-2007, serving as Learning Center director from 1989 until she retired in 2007. "It was always a friendly learning environment where the teachers were accessible, and I try to replicate that here for my own students"
One of the most popular myths about his students, Duvall says, is that Americans believe all Japanese students are super disciplined, proper, always bowing and scraping, and never get out of line or act up.
"This couldn't be further from the truth," he notes. "The students here are just like those in America. We have all kinds of students, some are very nice and well-mannered while others are more 'rough and tumble.' Our school year starts April, and runs through the following March, with a week-long break between school years in late March. Summer break lasts six weeks in July and August. Winter break is centered on the New Year holiday, which is the most important holiday in Japan."
Public school students in Japan receive foreign language education (English) beginning in elementary school, often much earlier than in the U.S. Japanese school culture is one that teaches students to be a member of the group, to be a good team player, to be a part of a greater whole, working together.
Japanese elementary school includes first through sixth grades. Kindergarten is not mandatory, and most kindergartens in Duvall's area are private. Junior high school includes grades seven through nine, with ninth grade being the highest mandatory level for school attendance.
High school grades 10-12 are technically optional, although most students do attend following very difficult entrance exams. "
"You only get one shot, and you have to test at the high school you want to attend," Duvall explains. "It is very competitive. If you fail to score high enough, you will likely have to go to a private 'safety school' that will accept most students. This can be both expensive and far from home."
Students compete to go to the best high schools, with many of Duvall's former students taking on two- hour round trip commutes to go to the best schools in Kanagawa and Tokyo.
"One of my favorite aspects of Japanese education is the club system that starts in junior high and continues in high school," explain the passionate teacher and coach. "Almost all students at public junior high schools join year-round clubs. Most are sports related, but they also have brass band, art club, computer club, tea ceremony club, and more. School sports are not seasonal as they are in the U.S. Major junior high school events include a Sports Festival, the Culture Festival, and the Chorus Contest.
Teaching comes as a second career to Duvall, who also had an exemplary 23-year career in the U.S. Army, retiring with the rank of Lieutenant Colonel.
After four years of Army ROTC training while at Georgetown, he was commissioned upon graduation in 1993 as a 2nd Lieutenant in the U.S. Army Ordnance Corps. He completed the U.S. Army Airborne school at Ft. Benning, GA enroute to his first assignment with the 1st Infantry Division in Ft. Riley, KS in 1994. Duvall left active duty in 1996 and continued his service in the Army Reserves at Ft. Sheridan until moving to Southern California in 2001. He served with the 91st Division, and was mobilized for Operation Enduring Freedom in 2003, when his unit conducted pre-deployment training for other units deploying to Iraq at Ft. Carson, CO and Ft. Lewis, WA.
He transferred his Reserve duty to U.S. Forces Japan at Yokota Air Force Base, Tokyo in 2006 and worked there as a transportation logistician until I retirement During that time, he also completed four years of active duty at Camp Zama, Japan, during which time the the Great Northeast Japan Earthquake and Tsunami occurred in March of 2011. He was deployed for a short time to Camp Sendai in northeast Japan as the U.S. Army liaison to the Northeastern (Japanese) Army, where he supervised the maintenance of bath and shower equipment the U.S. Army loaned to the Japanese army for use at improvised shelters for displaced persons whose homes were destroyed.
Duvall lives with his wife, Rie, and their five-year-old daughter, Hiyori, in Yokohama, Japan. His mom now enjoys retirement in Warrenville and maintains contact with some of her colleagues at Benjamin. Younger brother, Randy, who also attended Benjamin District 25 schools, lives in Salem, OR, with his family.
1985 Benjamin Graduate Vincent Engstrom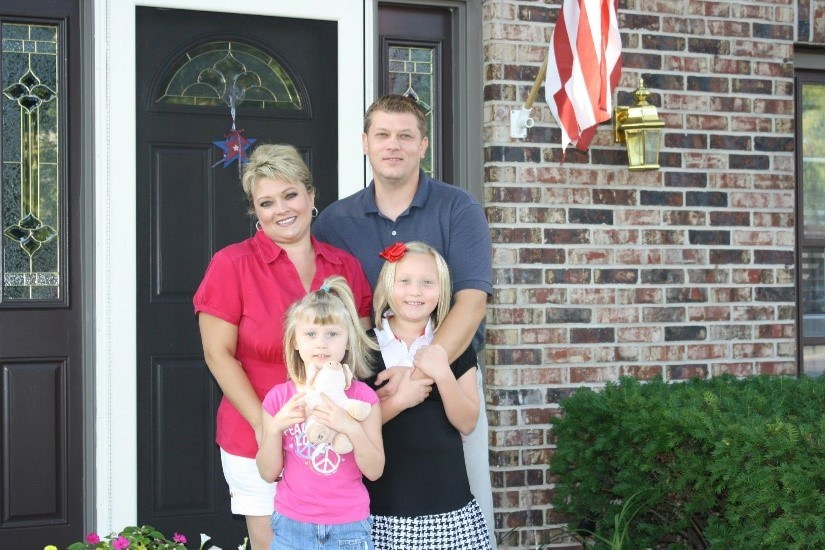 Vincent Engstrom, currently a member of the District 25 Board of Education, attended the College of DuPage and DePaul University before graduating National Louis University (2006) with a Bachelor's degree in Behavioral Science. He and his wife, Jenni, have two daughters at Evergreen Elementary School---Sydney (fourth grade) and Isabella (first grade).

Career Highlights: Currently employed by Nalco as the packaging systems technical manager(packaging engineer), Engstrom designs and specifies packaging requirements for a variety of hazardous materials serving the water treatment and energy industries. He has been working in the packaging and manufacturing industry for just over 20 years.

Favorite Benjamin District 25 Memory: "I have so many to choose from and it is hard to pick just one," says Engstrom, who notes that the small town feel of Benjamin schools allowed him to know each of his classmates.

Favorite teacher(s), activities: Engstrom credits former Benjamin teacher Mark Mason for "helping me learn to think for myself and even influencing my taste in music." He says Mason's sense of humor and extreme dislike of Smurfs are vivid memories.

How did District 25 help prepare you for the future? "While in the Benjamin schools I learned to set high expectations and standards for myself and this has been a persistent theme in my personal as well as professional life," says Engstrom.

Why Benjamin District 25? "When my wife and I were looking to start a family and buy our home we both knew that we wanted our children to have the same opportunities we had growing up," states Engstrom. "It was an easy choice for both of us to return to the neighborhood where we both grew up. Growing up in District 25 offers our children the opportunity to receive an excellent education while experiencing a small, tightknit community of students and educators."