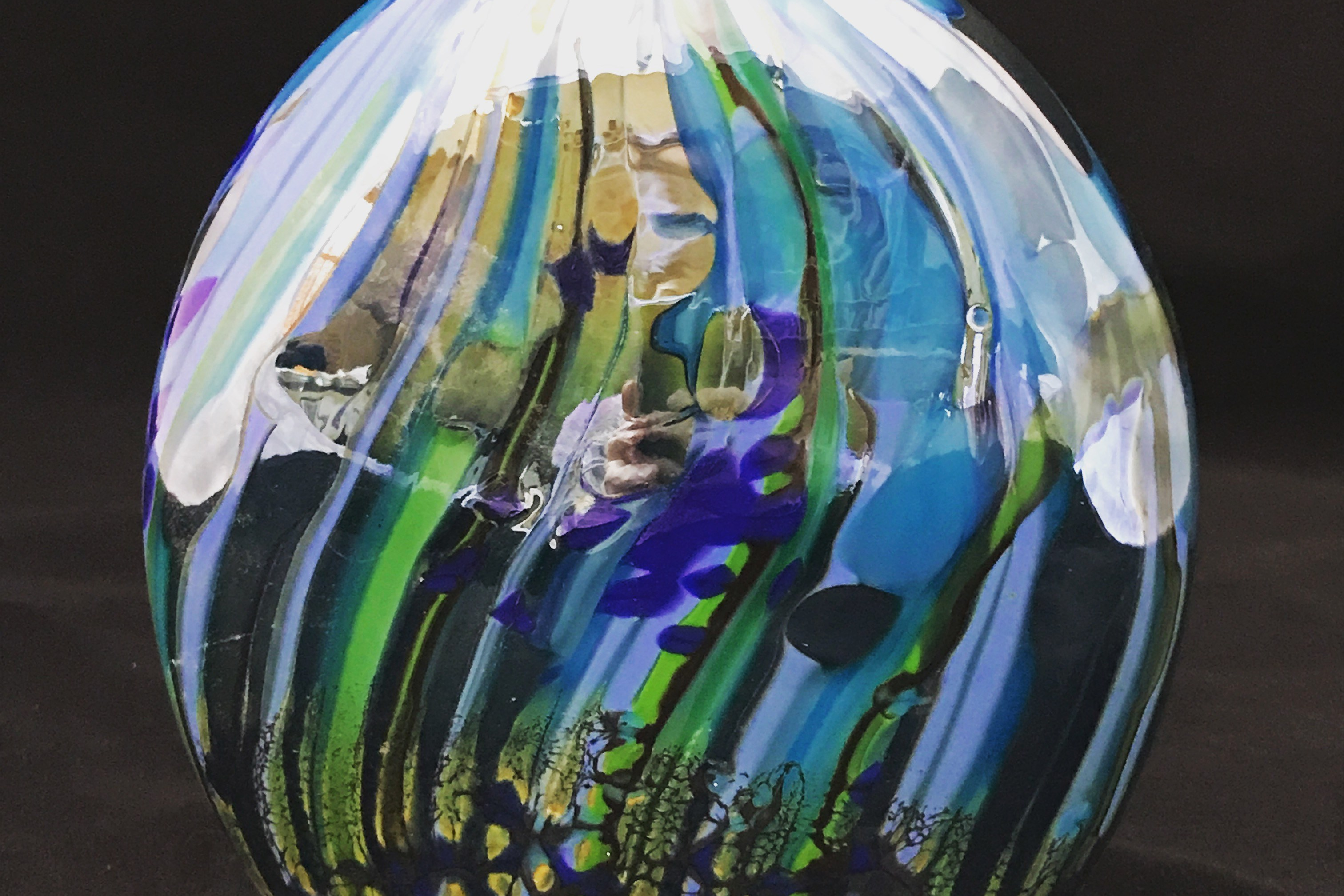 1986 Benjamin Graduate Kelly Howard
Laying the Foundation for Bright Futures
Marc Chagall once noted that "Great art begins where nature ends." But for one 1986 Benjamin District 25 grad, great art and the beauty of light and nature are intrinsically linked.
While science, technology, engineering, arts, and math (STEAM) careers are front and center in today's global economy, Kelly Howard, owner of Lincoln City Glass Center, a large public glass-blowing studio and gallery in Oregon, says it was her early days at Evergreen Elementary and Benjamin Middle School which helped to lay the foundation for future education and artistic endeavors.
"My experience at Benjamin was a wonderful beginning to my educational experience," states Howard, who today owns and manages her studio/gallery with up to 20 employees during peak summer months, is a popular lead and color artist displaying and selling Kelly Howard glass work including vases, sculpture, lighting, and sea glass in galleries throughout the Pacific Northwest.
The 1986 Benjamin graduate credits John Shalenko, PE teacher, Lynne Crabb, science teacher, Anna Meade art teacher, and Mark Mason, social studies teacher, who "although quirky was really was very understanding and supportive of my creative mind, that didn't always fit into the boxes."
"Anna Meade was absolutely a huge part of my beginnings, encouraging me to make work and really giving me a wonderful way at looking at making work," she recalls. "I still remember many of her little anecdotes such as, 'a little dab will do ya' and just making the experience of making really fun, which has always stayed with me."
Today Howard's days revolve around her two teenage children and her glass blowing studio and gallery, where staff help guide customers through the process of creating their own piece of glass art. Howard serves as buyer of artists' work that she sells in the gallery and also creates product ideas and does color work for production line produced by staff.
Following her 1986 Benjamin Middle School graduation, Howard attended Seymour College in Adelaide, Australia before graduating Community High School, West Chicago in 1990. She received a bachelor's degree in psychology from the University of Wisconsin-Madison (1994), and attended Universita per Straneri, Perugia, Italy (1994), Pennland School of Craft (1996), and earned a bachelor of fine arts degree from the School of the Art Institute of Chicago (1997).
Additional post-graduate work was completed at Universita Polytechnica in Valencia, Spain (1998), Corning Glass Studio (2009) and the Pilchuck Glass School (2011 and 2017).
A career highlight in 2015, occurring shortly after the gallery's 10 year anniversary and when its 50,000th customer helped to make a project which became a record-setting experience for the small private studio sharing its glass making experience with the general public. "I often have customers tear up from being so moved by the experience," she states.
In 2013, she donated a piece of glass priced at $425 to the Dale Chihulys glass school benefit auction and was astounded when it sold for an amazing auction price of $1590. In 2016 she contracted with Gump's Department Store and her work now is carried in San Francisco's popular Union Square central shopping, hotel and theatre district.
Howard often receives emails and messages from people who have seen her work and feel inspired or moved by the way she works with color. Most recently, a letter from a man recently diagnosed with mesothelioma who had started doing art/chromatherapy, arrived. The chromatherapy technique is a decorative element and also used in therapy effecting one's physical and psychological condition.
"He wrote to tell me he was very moved by my use of color and sent along an article that he helped write," she notes. "This was really wonderful to hear as I often feel I am just 'making things' and I should be doing more to give back to society. But when people tell me that my work makes them feel joy, it means so much to me."
Howard says she strives to keep pushing herself to create something new and different and keeps experimenting with the material.
"Making things that real people can bring into their homes and really bring color and light into their lives, brings me joy."
Howard resides in the Pacific Northwest in Cloverdale, Oregon with her partner, Jesse Taylor, and her children Dylan, 17, and Rowan, 14. Her brother, who also graduated from Benjamin District 25, still resides in district.