1980 Benjamin Grad Bob Genetski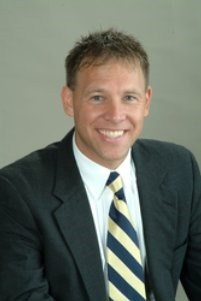 Bob Genetski attended Evergreen Elementary School when it was called Morton Road School and completed sixth-eighth grades at Benjamin Middle School, graduating in 1980. He is a graduate of Wheaton Central High School (1985), the College of DuPage (1989), earned a bachelor's degree from Auburn University (1991) and a master's degree in education from Grand Valley State University (2004).

Career Highlights: He is the senior executive assistant deputy director at the Michigan Department of Licensing & Regulatory Affairs, working under Gov. Rick Snyder. Prior to that, Bob served six years in the Michigan House of Representatives where another former Benjamin District 25 student was one of his constituents. He represented a district which covers the cities of Holland, Allegan, Douglas Fennville, Plainwell, Saugatuck, South Haven, and Wayland in Michigan's Allegan County.

Prior to his first term as a State Representative, Genetski taught for nearly a decade, including time teaching at Orion Alternative School, which caters to at-risk students.

Golden Memories of Benjamin District 25: Genetski says that he, his brothers and sister all received a great education from teachers who really cared. Patricia Gebauer in the fourth grade is remembered for her hugs and he credits Mr. Davis' social studies class at Benjamin for sparking his interest in government.

Changing into and out of gym t-shirts at hallway lockers outside behind the stage ranks as his least favorite memory.

How did Benjamin District 25 prepare me for the future?

I had a lot of wonderful teachers who really cared about their students. They were both patient and inspiring. Benjamin was a very small school and was a tightknit community. Teachers were always willing to give extra help. The district did a great job in teaching the basics and I received a great foundation in reading, writing and math. We didn't have many frills, but there was a lot of improvising that went on to give us opportunities in athletics, theatre, and even a makeshift library. Benjamin students were very prepared and did not need the fanciest accommodations---just opportunity.